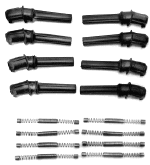 Many newer vehicles are using coil on plug ignition in lieu of traditional coil and ignition wire systems. The spark plug conntctor spring and boots are starting to fail. Boots are prone to burn through and arching. Poor fitting springs sometimes weld themselves onto the plug or coil making removal difficult without stretching the springs completely out of shape when changing the spark plugs or removing the coil (Ford).

The following is a partial list of currently available kits. Please review our wire catalog for complete listings.
Until now, the only alternative was to replace the complete coil assembly which could cost you $50-$100 per coil. For example, a 6 cyl has 6 coils.
We are happy to announce the immediate availability of coil-on-plug tune-up kits that include spark plug boots and contact springs in sets of 4, 6, 8 or 10 cylinders.

PART #
24-1280

24-1729RS

26-1702RS

26-1704RS

26-1730RS

28-1697RS
APPLICATION
GM QUAD FOUR

GM CAVALIER, COBALT, GRAND AM, SATURN (ECOTECH)

JEEP CHEROKEE, LIBERTY, WRANGLER

CHRYSLER CONCORDE, LH, LHS, INTREPID, 300M

FORD ESCAPE, MAZDA TRIBUTE, TAURUS, SABLE

FORD CROWN VIC, MERCURY MARQUIS, LINCOLN TOWN CAR, F150/250/350, EXCURSION, EXPEDITION, EXPLORER, MUSTANG GT
ENGINE
2.3L, 2.4L

2.2L

4.0L

2.7L, 3.2L, 3.5L

3.0L (24V)

4.6L, 5.4L (2V ENGINES ONLY)
YEAR
02-87

08-03

04-00

06-98

08-01

08-97
CHRYSLER, DODGE, JEEP (HEMI)

FORD, LINCOLN, MERCURY MAURADER, MUSTANG COBRA

FORD F150/250/350 SUV, MUSTANG GT

FORD F150/250/350, EXCURSION
28-1799RS

28-1705RS

28-1812RS

20-1701RS
FORD CROWN VIC, MERCURY MARQUIS, LINCOLN TOWN CAR, F150/250/350, EXCURSION, EXPEDITION, EXPLORER, MUSTANG GT BULK BOOTS & SPRINGS
5.7L

4.6L (4V)

4.6L, 5.4L (3V)

6.8L (10 CYL)
4.6L, 5.4L (2V ENGINES ONLY)